6/18/05 Saturday, Cut Bank MT 74 miles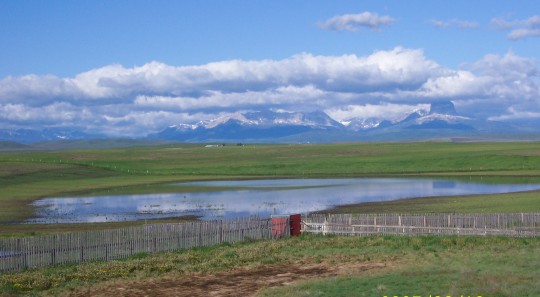 We had fine weather and strong tailwinds most of the day.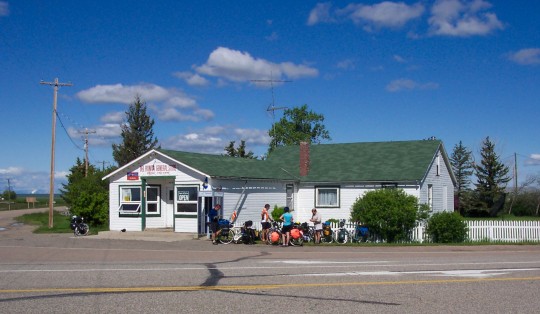 The only services were one small store out in the middle of nowhere. We're in the plains now, but at the top of each rise the Rockies are still visible.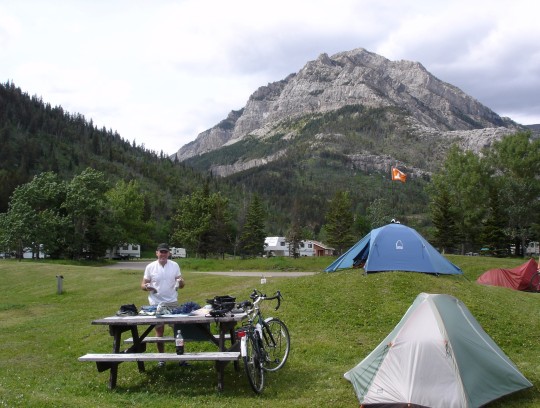 The Riverview RV Park is on the industrial end of Cut Bank MT. Thanks Brendan for the photo. Note the Tennessee flag at the top of the hill.
In camp is another Northern Tier tourist, Dave, going east to west. He is a bricklayer from Orange County CA who has toured in Alaska and all over the US.

I walked ovsr to the Albertson's and bought some AAA batteries and 3 Power Bars to replace the ones that got left behind in the bear box at Sprague Creek camp in Glacier Nat. Park.
Dinner was at Pizza Hut. Bill showed up to distribute food money and then disappeared for his day off. I sat with Geoff, Carol, and Dave, the E-W tourist.

6/19/05 Sunday, Cut Bank MT
Layover day in Cut Bank. Maddy made us a nice breakfast of French toast and fruit in the little gazebo in front of the camp office. Dave, The E-W tourist from last night, had left at daybreak to try to beat the headwinds.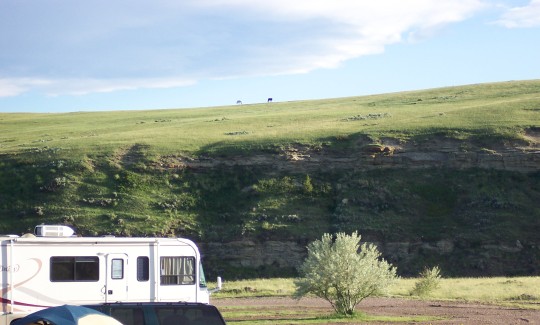 The "cut bank" in Cut Bank is readily visible.


Several of us went to see "Batman, the Beginning" at a local theater. Shirley and Noah, a mother and son team we had seen before, caught up with us again. The owners of the campground are both retired and married just three months. She made us a batch of chocolate chip cookies and took a group photo.